The Top 4 Primers to try!
What better way to kick off the "a little más beauty section" than by starting off with face primers!
Lately, I have been obsessed with using face primers. Who doesn't love a good face primer?!
Besides starting off with a great moisturizer, a good facial primer creates a perfect foundation for your favorite makeup. I've tried several primers and have quite a few that I love! It really does depend on what you're looking for. I feel that primer really makes a HUGE difference when I apply my foundation; my skin is smoothed out and I have found that my foundation tends to last longer.
Before I list the primers that I love, I should let you know that I have combination type skin. When I was pregnant, my skin became really dry so finding the right primer was crucial! Hopefully, once you give these primers a try, you'll love them just as much as I do!
If you have a primer that does amazing things (I'd love to try it out) or if you've tried any of these products, please let me know! Our skin is constantly changing, whether it's from the weather or in my case, pregnancy. Having a good primer definitely helps the appearance of our skin during these changes and does wonders for your makeup!
'Till next time,
Denise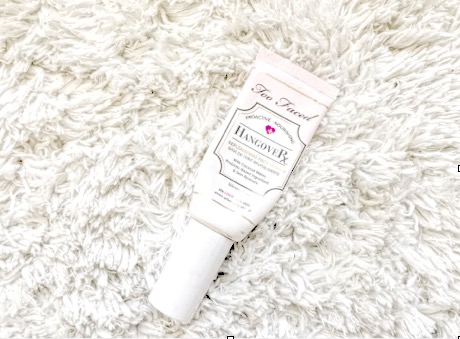 #4 HANGOVER PRIMER REPLENISHING FACE PRIMER
One of my ALL time favs!
I started using this primer during pregnancy because my face was getting too dang dry! It hydrates your face wonderfully! Not only that, but it brightens and smooths out your skin.
One thing that sold me on this primer was the fact that it has coconut water in it, which helps with hydration. If you're also someone who is into cruelty-free products, this is the one for you!
When I use this product I only need one or two pumps of it and once it's applied, I wait a few minutes to let it set in. To summarize, if you have dry skin or looking for an extra boost of hydration- I say you check this one out!
#3 BECCA First Light Priming Filter Face Primer
perfect for ALL skin types.
When I put this primer on, I notice a difference in my uneven skin tone (which by the way is one of its main functions) and my skin looks brighter. I love how this primer leaves my skin feeling fresh and smooth with an added brightening effect. If you are in need of a cruelty-free primer that instantly refreshes your complexion I recommend you try it out! This one is pricier but totally worth it. Plus, since you don't need much product, it goes a long way!
#2 Smashbox photo finish foundation primer
Creates flawless looking skin.
This primer is specifically made to help makeup last longer. While I do enjoy using this primer, I don't use it alone. Since my skin was dry during pregnancy, I would use one of my hydrating primers all over my face and then, on the places where I wanted a smoother look, I would apply the Smashbox primer. If you have dry skin, I would recommend applying it that way. If you have oily skin, you might prefer to use this primer by itself. With that said, I still enjoy using this product, especially when I want my makeup to look really good and last all day!
#1 dr. brandt pores no more luminizer primer
Minimizes pores, evens out skin tone, & so much more!
This primer is my #1 TOP pick for so many reasons. It gives my skin the natural glow it needs under my foundation and refines my overly visibly pores. I absolutely love how smooth my skin looks and feels after it has been applied. This primer is great for all skin types and because it's tinted (along with the lentil seed extract), I have found that it evens out my skin tone as well. You will get a BANG for your buck with this long lasting primer!